Eating Healthy On a Budget
Saving money is always a good thing! It can be daunting trying to eat healthy and not blow the budget. We want to make smart, healthy, yet tasty choices, but not spend a small fortune, right? Here is a list of ideas to help get you started on your journey of eating well without breaking the bank.
Plan and Prepare for your shopping trip
The first step is to make your meal and snack plan. Some find it helpful to plan meals in advance for the month or even just the week. Make sure to take into account breakfast, lunch, dinner and snacks. Think about your schedule and what type of meal will work best and how much shopping, prep and cooking time you have. Also, consider making enough for leftovers to save some money and time on lunch prep or even another dinner that week!
Check out your grocery store "store rewards cards" for coupons and consider rebate apps. Of course there are always paper coupons in the newspaper to use as well. Try to use your coupons with items that are on sale for double savings! However, be careful because a lot of coupons are for foods that may not really be that healthy.

Also be willing to try different grocery stores (Aldi, Trader Joes etc). These stores are becoming more popular for organic and other healthy options that are not extremely pricey.

Check what's on sale as you decide what to make for the week- you can focus your meals around what meats or seafoods will be on sale per the weekly grocery flyer.
Before you make your list, check what is in the pantry. See if you already have some of the ingredients for the meals you want to prepare so you are not wasting any ingredients and money by not using something that might go bad.

Then once you know what you want to make you can put your grocery list together.

If possible, plan your list in accordance with your grocery store. This will help you save time and money! If you know your grocery store aisles you can skip the aisles you don't need and avoid impulse buys. FYI…it really is true, don't go grocery shopping when hungry…those cookies will be way too tempting!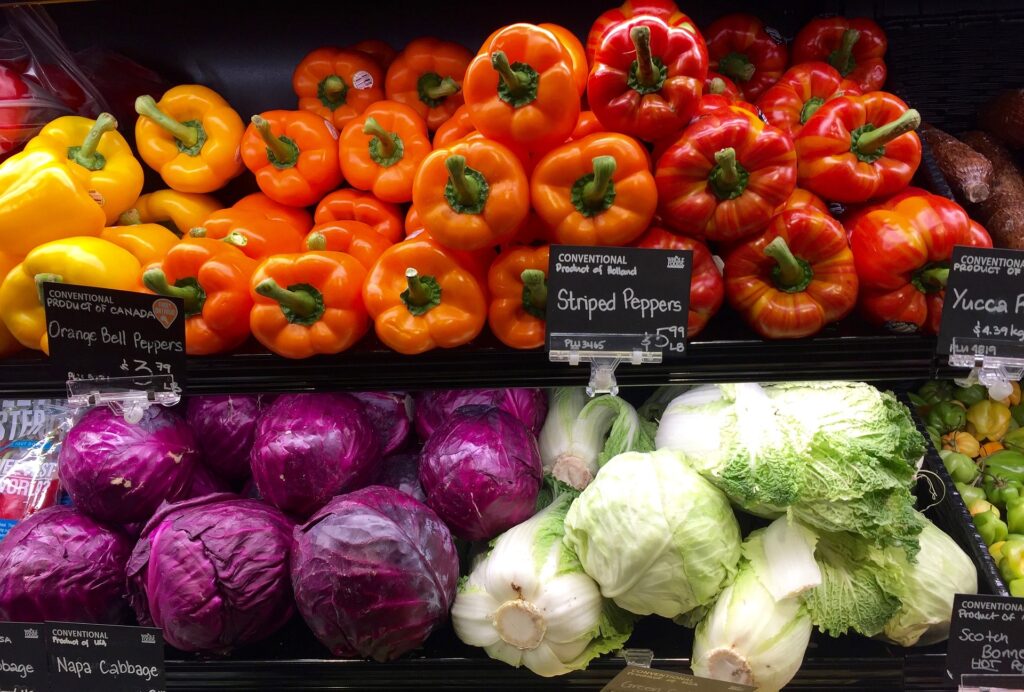 Fruits and Veggies:
Buy in season when they will be less expensive.

Another cost saving method is to skip the convenience items. You can clean, cut and prepare your own fruits and veggies (if you have the time).

Frozen vegetables are also great if you cannot get them fresh, just purchase ones that do not have added sauces and butter.

If buying canned, choose low sodium vegetables or fruits with 100% fruit juice. For canned vegetables, rinse them off before cooking to reduce the sodium content.
Grains:
Choose whole grains (whole grain should be the first ingredient on the list) such as brown rice, whole wheat pasta, quinoa, whole wheat crackers and whole oats.
Protein:
Great low cost protein foods can include beans such as lentils, kidney and navy beans. Dried beans can be bought in bulk and will be less expensive, but canned beans are also a great option if you don't have the time to soak and prepare them.

Consider buying family size packs of chicken and lean beef and portion them out before putting them in the freezer or using them. Try choosing lean meats (93% lean) when possible.

When buying seafood you can purchase canned tuna and salmon or sardines that will keep well and are less expensive than fresh fish.

Eggs are another great protein source that are low cost.

Nuts: almonds, cashews, peanuts etc are also great protein
Dairy:
When able, purchase the larger sizes of yogurt versus the individual cups (check the unit price to see the savings).

Choose part skim or low fat milks and cheeses. This will reduce the amount of saturated fat and calories, but provide just as much protein.
Aim for whole fresh foods vs prepackaged foods that are most likely loaded with extra calories. Sometimes the prepackaged items can even be more expensive. That means most likely shopping the perimeter of the store, as you may have already heard!
Consider buying store brand items that may be a cheaper alternative.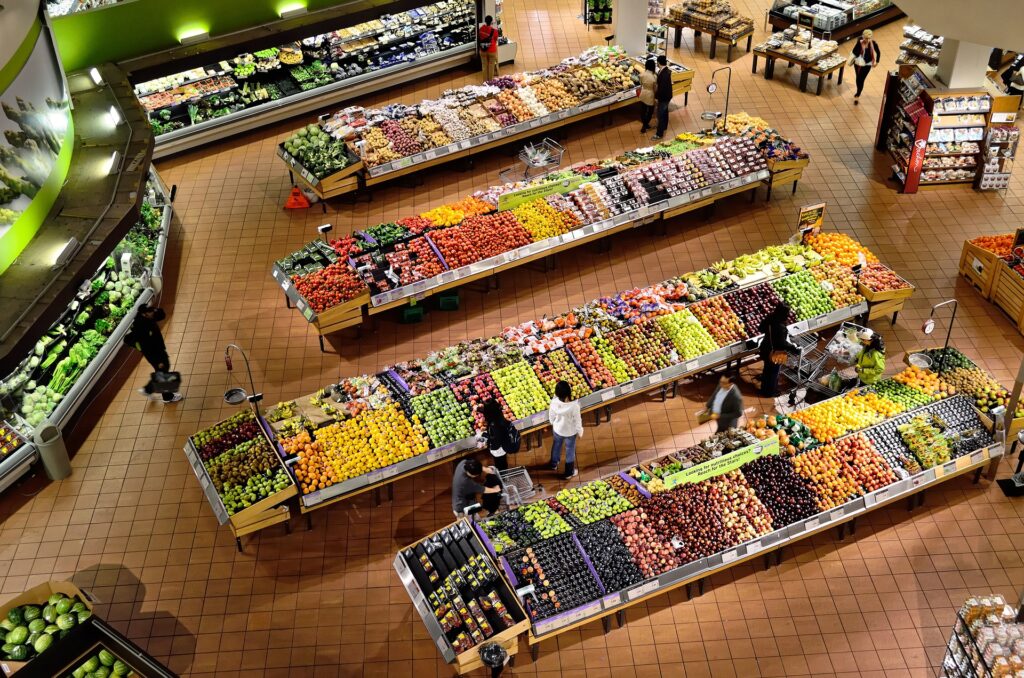 Don't cave in to the desire to buy the junk food- stay out of those aisles. Save the money and the calories!

Look at the Unit price as well as the retail price. It may help you determine if it is actually cheaper to buy the larger option. To determine the best price look at the unit price: Cost of food divided by the number of units in the product- this is usually on the price tag at the store!

Read the food labels to find the options that are lower in sodium and saturated fats.
Post written by Rachel Wooters, RD, LDN
This information is intended for general advice and may not be applicable to everyone. Please speak to your on-site Registered Dietitian if you have specific questions or to find out what is best for your individual needs.
1 Last updated April 18 2017 "Healthy Eating on a Budget" Retrieved from: https://www.choosemyplate.gov/budget
2 Reviewed by Taylor Wolfram, MS, RDN, LDN (Published July 27, 2018). "10 Tips for Eating Right Affordably". Retrieved from: https://www.eatright.org/food/planning-and-prep/eat-right-on-a-budget/10-tips-for-eating-right-affordably